This case study looks at just how Haulage Exchange helped a long-term member make a living from delivery work and create the career he wanted.
D Tear Haulage: A Job That I Love
Darren, the man behind D Tear Haulage, is an experience delivery work driver. He has driven a 44-tonne for the past two decades and has loved every second. However, like many of our members, Darren knows all too well that truck driving is demanding. The margins can be narrow and the job hard work. So, you have to make it work for you.
From Vans to Trucks
About ten years ago Darren was running a few vans, using our sister site Courier Exchange to drive up profits. The results were good, so he decided to give the HX platform a try. Though Tear was sceptical at first, he now admits that the site has 'over-delivered' on its promises.
Building a Network
When Darren began using our site he found most of his delivery work through smart matching. This feature looks through all the available loads on the site and sends you those that match your location and availability. Though he still uses this feature occasionally, over his time on the site Darren has built strong business relationships with contractors who now contact him directly for work. It is this networking, Tear says, that is the secret to bigger earnings.
Building a Business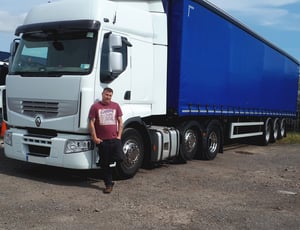 These days D Tear Haulage is turning down business as Darren has become too busy with work from the HX platform. However, he has just acquired two owner operator licences and plans to buy another 44-tonner soon. By increasing his profits and helping him create lucrative business relationships, Haulage Exchange has enabled Darren to grow his company.
Like many of our members, Darren also loves the freedom and flexibility the HX platform gives him. He can choose who to work for and when to work meaning it is much easier to find time for relaxing with his wife on their 32-foot yacht. Now, that's what we call success.
If this success story has inspired you to see what Haulage Exchange can do for your business, simply click here to find out more.