Barri Amin, founder of Timeline Transport Ltd. sat down with us recently to explain how membership to Haulage Exchange has helped him rebuild his life in the UK after leaving his war-torn home.
Logistics Lifeline
People begin working in the haulage industry for many different reasons. Some love being on the road, some love logistics, management and all that comes with running a large business and some – let's be honest – just need a bit of cash.
However, when Barri Amin set up his first company in Afghanistan, he wanted to give back to his country and help all the ordinary people suffering from war and violence.
Dangerous Driving
Many delivery drivers have been in perilous situations, a near miss whilst driving, bad weather or dangerous conditions are all too common. However, thankfully, it is unlikely that our UK-based members have ever dealt with the level of danger this member and his drivers coped with every day.
Mr Amin ran a freight company in Afghanistan for three years. Saddened by the effect decades of violence had on ordinary people, he hoped his logistics business would help bring some normality to the country. He battled with poor infrastructure and security risks, including landmines and roadside bombs, to provide a key link between Kabul and other major cities. His fleet of 19 articulated trucks delivered food and fuel to British and American army bases under armed escort and moved loads around the country from the north to the south.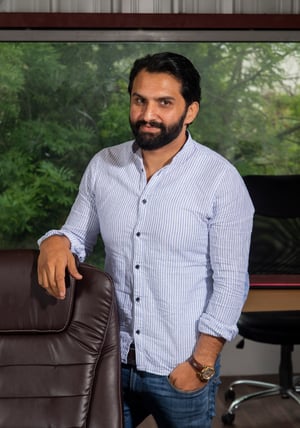 Sadly, after three years Mr Amin felt he could do no more and, exhausted, he left for the UK.
Rebuilding a Business
Having run a company in the toughest conditions, Barri Amin thought he could certainly give it a try in the UK. His confidence was boosted by a membership to both Haulage Exchange and Courier Exchange.
Practical Help
Barri Amin is full of praise for our smart load matching system. Saving him hours trawling through different haulage distribution lists, our smart load matching automatically searches through loads to find those that suit his vehicles' availability. Using smart load matching to book loads has helped Timeline Transport grow already. The company has 12 vehicles now and plans to expand soon.
Why does Timeline Transport recommend Haulage Exchange?
High Standards – The platform is trustworthy. Members know that other users have high professional standards.
Less Paperwork – Users submit their paperwork just once. Other members can view this paperwork and you don't have to waste time resubmitting for every job.
Excellent Online Feedback System – Rather than a star system we use written comments from members, so others have all the details they need to make a decision.
To see what Haulage Exchange's smart load matching system could do for you become a member. See your business grow and, who knows, we could be featuring your fleet here soon.